The Tasting Room
We are located at 448B Main Street, Murphys, California 95247. Boyle MacDonald Wines is available for private tastings and catered events, as well as open each weekend for wine tastings inside our well appointed, spacious tasting room and rooftop patio.
We offer flight tastings of between 4 and 7 wines, at a fee of $15/person. Boyle MacDonald will comp one tasting for every two bottles purchased. We are no longer accepting reservations. Seating is on a first come first served basis. Please continue reading for additional information including current hours.
UPDATE: October 31, 2023

Harvest is finally coming to an end. It has been a long grape harvest, but with excellent quality and yields. The 2023 wines will surely be awesome! Now our excitement turns to the holidays, skiing, warm fires, brandy drinks and wine with friends. The cold weather has its benefits…you know.
Upon your visit, inquire about our Wine Club. There is currently space available in the club and we are looking for your wonderful self to join us. The benefits include generous discounts, super fun events, and exclusive access to our limited production and library wines.
Music on the Rooftop every Friday from 6-8pm. Up coming artist:
November 3, Graham and Laura
November 10, McFunky
November 17, Christy Nava
Special Pre Turkey Day Show, November 22 Johnny Greco
November 24, Ty McCarthy
Holiday Open House, December 1, Graham and Laura
December 8, Keith Evans
December 15, Sean Brennan
December 22, Alan Drown
December 29, Justice Ramos
Winter Hours: Fridays 12-8, Saturdays and Sundays 12-5 We are no longer taking reservations. For large parties we recommend contacting us for large group options, though walk-ins are always welcome and we will do our best to accommodate all. We will continue to make ourselves available most days for local deliveries, curbside pick up, and visits by appointment. Please contact us with any questions regarding our tasting room, private events, shipping, or any of our wines.
For more information, including information on private tastings, call/text or email Craig at 707-654-6058/sales@boylemacdonald.com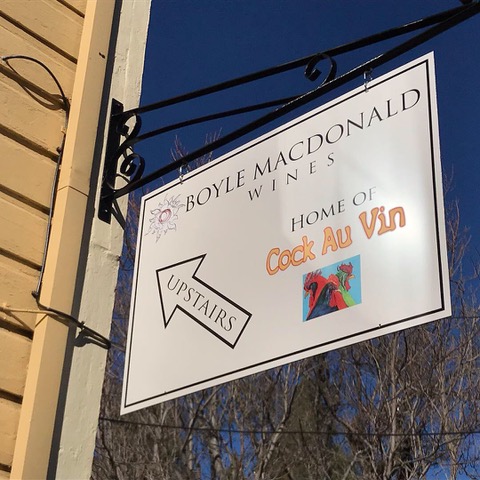 Current tasting hours are Friday, Saturday and Sunday from 12-5pm. Call/text/email for information on how to taste and purchase Boyle MacDonald wines.